Heart Tie Dye Pattern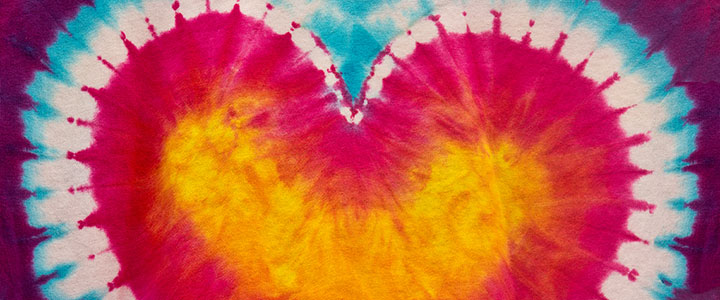 The Tie Dye Heart pattern looks like it would be very complex, but it's actually very easy.  It's definitely suitable for beginners.  Variations include the size of the heart and even the shape.  One thing that you want to do is create light and dark contrasting colors to ensure that the heart shape is very distinct, especially if this is your first time to try this design.
Lay your shirt out flat on your covered working surface.
Fold shirt in half, vertically, making sure the fold is as close to dead center as possible.
Either hand draw your heart shape or trace the heart shape from our Heart Tie Dye Pattern Template, using a washable marker
Start at fold, pinching the shirt material along the line that you've just drawn, folding it back and forth, accordion style, working your way around the curved line, letting the part of the shirt outside of the heart shape hang loose.
Once you have pinched the heart shape into a clump of cloth use rubber bands or a zip tie to clinch the fabric across the marked line.
Now you can add additional rubber bands or zip ties to create more segments, which will end up line outlines on the outside of the heart.
Finally, apply dyes to the different segments to create your design.
To complete your design and shirt, follow the instructions listed on the Tie Dye Basics: Quickstart Guide page.